Hey there! It's Theater Thursday over at
Crazy Shenanigans
. I know that I am taking a break from posting pictures from our Disney trip but honestly there are SO many pictures to wade through and organize. I might spread them out just to keep the pixie dust flowing over here. :)
For this Theater Thursday I picked Calamity Jane (1953). If you know me or have read for any bit of time, you know I love Disney movies and classic musicals. I decided not to do a Disney movie
this
time around but I am sticking with my roots on this musical. :)
Because of time constraints, I am simply going to use the summary from Movie Gazette. I only have about 10 minutes to post but I still wanted to participate!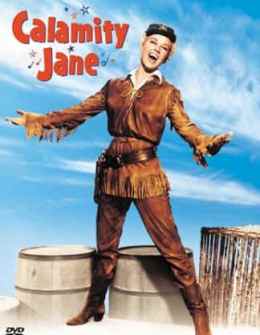 "Doris Day stars as Calamity Jane, a hard-riding, gun-toting, tomboyish woman in buckskins who lives in Deadwood where she is just one of the guys. She has a fondness for army officer Lt. Danny Gilmartin (Philip Carey), but he doesn't seem to consider her to be his type. She also has an ongoing friendly rivalry with Wild Bill Hickok. 'Calam' just can't resist boasting, even though most of her endeavours are a little disastrous. When a crowd of her male friends are disappointed by the appearance of a drag queen rather than an actress at the local theatre, she prevents a riot by promising to go to Chicago in order to bring back famous actress Adelaid Adams (Gale Robbins) to appear on stage in Deadwood.
As good as her word, Calam goes to Chicago and tracks down the theatre where Adelaid Adams is appearing. However, when she makes her way backstage, she mistakes the actress's maid Katie Brown (Allyn McLerie) for the actress herself. Katie has ambitions to be an actress and decides not to tell Calam who she really is, so Calam escorts 'Adelaid' back to Deadwood. It is not long before Katie's secret comes out, but the townsfolk decide they want her to stay anyway, and Wild Bill Hickok is completely smitten by her. However, problems arise when Danny and Katie fall for each other while Bill and Calam are left on the sidelines.
This is a fine musical from an age of great musicals, which makes no pretence at being in any way historically accurate and concentrates instead on being good entertainment. Her outing as Calam may have been Doris Day's finest performance - and certainly her most energetic. Howard Keel is a charming, if unlikely, Wild Bill. Although the plot is a simple one, the action never flags right up until the happy ending. All the songs are outstanding, not just the Oscar-winning 'Secret Love', and are performed with great joy and verve. 'Calamity Jane' is pure unadulterated fun."
This movie is a favorite among my family. I love Doris Day as the tomboy in the movie with her beautiful transformation. I could watch it, with it's musical numbers, over & over again and never get tired of it. Check it out!