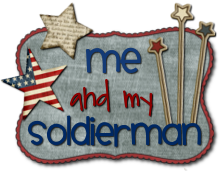 Thanks for doing this blog hop
Jaci
- I am loving it!
It's Day 3 of the Disney Blog Carnival and we are talking about FOOD!
Considering it is one of my favorite things, Disney or not, I can't believe how few pictures I have. That is definitely something I will work on for future trips.
Here is a picture of T and I on our trip February 2010. Please ignore all of the empty dishes in front of us. This picture was taken at
Tony's Town Square Restaurant
. It was our last day of our trip and our first time to eat at this restaurant. Lots of good memories!
The next restaurant is one of our favorites -
the 50s Prime Time Cafe.
We love this restaurant and have gone many, many times. The theming is amazing, the service is great(especially if you like sarcastic "aunts" and "uncles" telling you to mind your Ps and Qs at the dinner table) and the food is excellent. These pictures were taken on our honeymoon, March 2008.
We had our own personal tour guide for parts of our honeymoon in the form of one of my dearest friends and sorority sister, Ila.
When my family came to visit October 2008, we went to the Hoop De Due Revue on the Dining Plan. It was loved by all of us and we plan to go back. The entertainment is great for all ages and the food was delicious and all you can eat.
The only character meal I have ever done was the Chrystal Palace with my family(October 2008). It was buffet style so we all got our fill of food and the characters came around multiple times so we never missed a shot with any of them.Unfortunately all of those pictures are on my mom's computer.
Here is an part of an interview I did with
Mommy Mouseketeer
, a great source for all things Disney, regarding Disney Dining.
Name your favorite restaurants:
I am going to list both Quick Service(QS) and Table Service(TS) because I know that few people can afford all table service meals on their magical vacation. :)
Magic Kingdom:
QS - Pinocchio's Village Haus (great theming, variety of food for any tastes), TS - Liberty Tree Tavern or Chrystal Palace (amazing buffet!)
Disney Hollywood Studios:
QS - Sunset Market Ranch (ok, I might be slightly biased since I worked here part of the time I was at WDW - but it has a nice variety of food) or ABC Commissary (indoor quick service), TS - 50's Prime Time Cafe (I adore the theming here and the food was always delicious!)
Epcot:
QS – Sunshine Seasons (great alternative to typical QS fair such as salads, rotisserie chicken, salmon and pork chops as well as vegetable sides), TS - Teppan Edo (marvelous Japanese food served hibachi style and sushi)
Animal Kingdom:
QS - Flame Tree Barbeque, QS and TS - Yak and Yeti (this restaurant is divided into 2 parts, outdoor QS and indoor TS. Delicious Asian food)